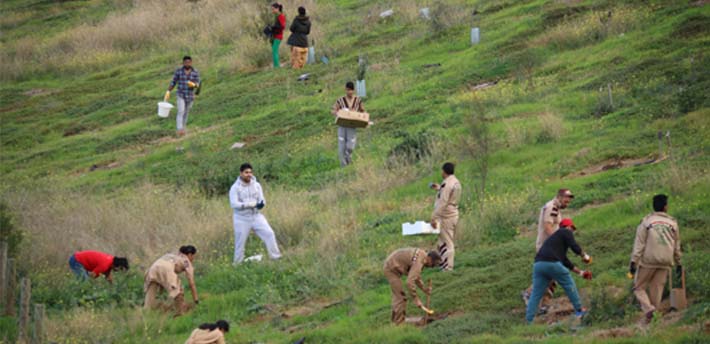 Green 'S' Welfare force Wing, Volunteers, Melbourne, Australia organized a Tree Plantation Camp Drive on 20th May 2016. This drive is organized with the help of Hobson Bays City Council, local government area in Melbourne, Victoria, Australia.
With Grace of Revered Saint Dr. Gurmeet Ram Rahim Singh Ji Insan they planted about 1400 saplings. The Council's members cheered-up the Volunteers for making the events successful in an organized and innovative manner. Volunteers are appreciated with a "Certificate of Excellence". They are also proposed for partnering with Council's future tree plantation and blood donation events. The Volunteers felt blessed to be able to contribute to their commitment and passion towards serving Humanity. This seems gratitude towards their Revered Guru Ji's holy teachings.
After the Drive was completed successfully, afternoon tea and lunch was provided by the Council members. In addition, "Langar" (charity kitchen) was arranged by Devotees for all the volunteers. The Langar menu involved Rice with curry, fruit salad and dessert, which was quite appreciated by other volunteers and the members of the Council.
Also the Council member's expressed gratitude for Revered Guru Ji for motivating the Volunteers to participate for Earth saving and Humanitarian activities on a regular basis. These Volunteers, no doubt are working for Humanity. It's incredible that they do not take a single penny for conducting these drives.These people don't plunge into such activities for the sake of money. But undoubtedly, they are endowed with such materialistic and spiritual happiness which they can never even imagine.And that is, true love which is given in abundance, by Almighty Lord, for helping His children to live a better and healthy life.
The tradition of MEGA TREE PLANTATION is carried out by Dera Volunteers every year on the auspicious occasion of holy birthday of Guru Ji i.e. 15th August. Guruji always motivates these tree plantation campaigns and these are celebrated like a festival at Dera premises. The main motive for these campaigns is to save earth from calamities caused due to Global Warming.With this true passion Dera Sacha Sauda has been able to mark its benevolence presence in Guinness World Records several times, each time breaking its own record of planting saplings.
Guru Ji apart from planting Trees, also teaches to take care of the saplings as their own children until its proper growth. He himself takes care of each sapling every day by giving them water and a proper maintenance according to weather condition. The above sermons from Revered Guru Ji and HIS love and care are the sole factors motivating Dera Volunteers and billions others to continue service towards Humanity.
https://au.derasachasauda.org/wp-content/uploads/2016/05/Tree-plantation-Australia-.jpg
344
710
DSS
https://au.derasachasauda.org/wp-content/uploads/2014/05/dera-sacha-sauda-australia.png
DSS
2016-05-25 18:08:23
2016-10-16 19:43:41
Green 'S' volunteers conducted Tree Plantation along with Hobson Bays City Council, in Melbourne