Shah Satnam Ji Green 'S' Welfare Force Wing Volunteers, Australia participated in Plantation Day organized by Grow West Melbourne at Rowsley, Victoria. The trees were planted by Volunteers at Ironbark region, 70km from Melbourne Central. The Council had about 5000 saplings to be planted and the Volunteers of Shah Satnam Ji Green 'S' Welfare Force Wing planted these saplings by initiating the drive at 9:30 am and the drive was wrapped up by 4 pm. It was a chilled morning with 2 deg. Temperature, when the Volunteers started the Campaign and as the day progressed the temperature rose marginally to 10 degrees. But freezing cold can never deter the enthusiasm of a Green 'S' Welfare Fore Wing member, who is determined to work his way to the destination, come what may. 85 Volunteers took part in the Drive which is highest till date.
Lance, Event supervisor, was very happy to see the Volunteers again as he had met them in past Drives and was aware of their commitment and passion towards a healthy and green Planet. Emma, the head of the Council was also overjoyed to see The Shah Satnam Ji Green 'S' Volunteers again and this time in higher number than the last year which was 75, inspite of chilling temperature. After the Drive was completed successfully, afternoon tea and lunch was provided by the Council members. In addition, "Lungar" (charity kitchen) was arranged by sadh sangat (Devotees) for all the volunteers. The Lungar menu involved Rice with curry, fruit salad and dessert, which was quite appreciated by other volunteers and the members of the Council. These members also expressed their heartfelt gratitude towards Dera Sacha Sauda Volunteers, and their Master Saint Gurmeet Ram Rahim Singh Ji Insan, for igniting such passion amongst the Volunteers, towards Service towards Humanity.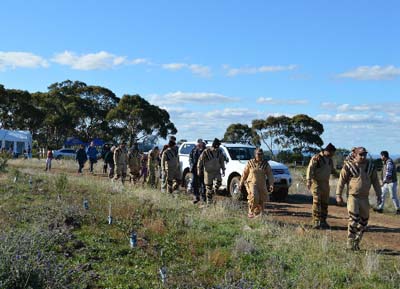 The Council members extended their invitation to the Volunteers for partnering in their future tree plantation events and making it successful as always. Their gratitude towards Revered Guru Ji falls short of words every-time and it can only be felt how thankful they are to the Volunteers, for regularly being part of Earth and cleanliness events. These Volunteers, no doubt are working for Humanity only and they do not take a single penny for conducting these drives, But they sure are paid much more than money, and that is, true love which is given in abundance, by Almighty Lord, for helping His children live a better and healthy life. The above sermons from Revered Guru Ji and his love and care are the sole and biggest factors motivating these Volunteers and billions others to continue service towards Humanity.
https://au.derasachasauda.org/wp-content/uploads/2015/07/Shah-Satnam-Ji-Green-S-Welfare-Force-Wing-Volunteers-Australia-Tree-Planation.jpg
344
710
DSS
https://au.derasachasauda.org/wp-content/uploads/2014/05/dera-sacha-sauda-australia.png
DSS
2015-07-19 15:57:23
2015-07-23 17:14:01
Shah Satnam Ji Green 'S' Welfare Force Wing Volunteers, Australia planted 5000 saplings in Plantation Day Drive.